5 Rabbits Megaways Slot Game by Pragmatic Play
5 Rabbits Megaways: Slot Overview
Duck for cover folks, the Pragmatic Play reskin machine is stuck again, and this time it's churned out a cover version of a previous Asian-themed slot titled 5 Lions Megaways. Today's version goes by the name of 5 Rabbits Megaways, and aside from some minor artistic shakeups, it is practically the same.
For fans of Asian-themed slots, that might well be music to their ears since 5 Rabbits Megaways is as steeped in cultural artefacts as its predecessor was. It also means the same features are here, such as wild multipliers and a seven-option free spins round, so if it all sounds pretty lìng rén xīng fèn, why not come have a gander?
---
On the visual front, both games look very much the same; there's a brother from another mother thing going on for sure. In terms of artwork, Pragmatic Play has gone hardcore traditional, heavy on the gold trim, swirling patterns, and classic animal symbols. 5 Rabbits Megaways is one of those games where you feel like you've walked into an elaborate hotel lobby or tourist destination.
Let's say that 5 Rabbits Megaways' setup feels custom-made to thrill a particular gambler, and the players it aims at should get warm fuzzies when the game hits the screen. Those on the fence may be tough to win over, though, since 5 Rabbits Megaways' gaming is recycled, and its winning potential is pretty low-key for a Megaways slot.
---
Available on any device, 5 Rabbits Megaways provides players with up to three ways of leaping into the fray.
5 Rabbits Megaways is played on a 6-reel game panel, dropping 2-6 symbols onto each reel to create up to 117,649 ways to win. Winning ways trigger the tumble feature, which removes the respective symbols from the reels. Symbols remaining on the reel strips replace them by falling down, and if a new win is produced after the drop, the tumble feature continues.
Winning combinations are made when 3 to 6 matching symbols land left to right on consecutive reels from reel number one. Landing a 6 OAK way pays 1-1.25x the bet for the 10-A lows or 2.5 to 25 times the stake for six turtles, fish, frogs, phoenixes, or dragons. Rabbits bound onto the grid as the game's wilds, but only on reels 2, 3, 4, or 5. Wilds substitute for any pay symbol, helping to finish winning ways.
---
5 Rabbits Megaways: Slot Features
---
A bunch of variously coloured bunnies also appear during the free spins round, which is accompanied by a tumble feature and a wild multiplier.
Wild Multiplier
When at least one wild symbol is part of a winning combination, a random multiplier is applied to all wins with wilds. This occurs in both the base and bonus games. In the base game, the multiplier value can be x1-x3, x5, x8, x10, x15, x30, or x40.
Free Spins
The Yin & Yang tile is the scatter symbol, present on all reels. Landing 3, 4, 5, or 6 scatter symbols awards 3x, 5x, 25x, or 100x the bet, respectively, when triggering the free spins round – worth noting is that the scatter symbol does not explode during tumbles. Before the bonus round begins, players pick one of seven options:
25 free spins – 2x, 3x, or 5x wild multiplier.
20 free spins – 3x, 5x, or 8x wild multiplier.
15 free spins – 5x, 8x, or 10x wild multiplier.
13 free spins – 8x, 10x, or 15x wild multiplier.
10 free spins – 10x, 15x, or 30x wild multiplier.
6 free spins – 15x, 30x, or 40x wild multiplier.
Mystery – the number of free spins and the multiplier range noted above are randomly awarded.
During free spins, when wilds are used in a win, a random multiplier from the applicable range is applied to all winning combinations using a wild. Hitting 3 or more scatter symbols in the round retriggers the same number of free spins as were originally selected.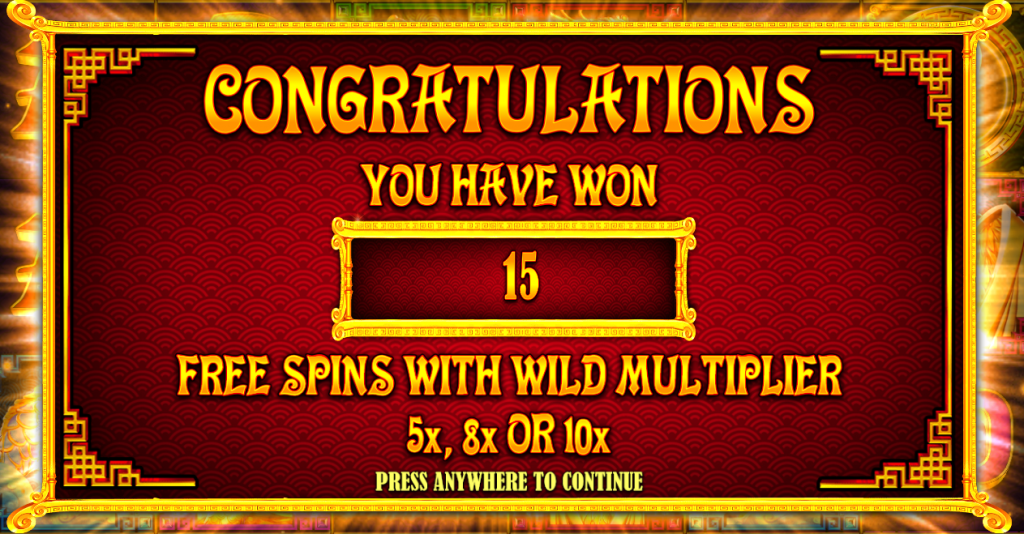 ---
5 Rabbits Megaways: Slot Verdict
5 Rabbits Megaways is a game we could have lived without. Not that there is anything doggone awful about it or anything, as such. It's just the same old same old, all over again. Just this time, with rabbits instead of lions. Ergo, it was hard to get too excited about 5 Rabbits Megaways, especially as it has the same un-inspirational 5,000x the bet win cap as before. This level of reward would be a shame in a Megaways slot, to begin with, doubly so in one with the ability to draw on some rather chunky wild multipliers to help pep payouts.
To be clear, there's nothing deal-breaking about 5 Rabbits Megaways' gameplay, and who knows, perhaps there was a portion of punters out there, probably a relatively small one, who played the previous game and really wished it had bunnies instead of big cats in it. Then again, probably not, but if the last slot rang your gong, 5 Rabbits Megaways is likely to do so as well. It's richly Asian-style, covered in theme-based iconography while retaining the typical Pragmatic Play pizzazz. In short, 5 Rabbits Megaways should be satisfying enough for a good number of Asian-themed enthusiasts.
Perhaps it was clone/reskin fatigue, though, because it was hard to get really fired up over 5 Rabbits Megaways. It's well made and all, slick, pacey, plus its wild multiplier feature is pretty neat, but at the same time, 5 Rabbits Megaways produced little to no 'wow, let's go' moments during testing due to having seen pretty much all of it before.
---
Sponsored by Egroup88
Tagged: online slot machine, pragmatic play, pragmatic play slot, rabbits, slot games