Review Jungle King JILI Online Slot Game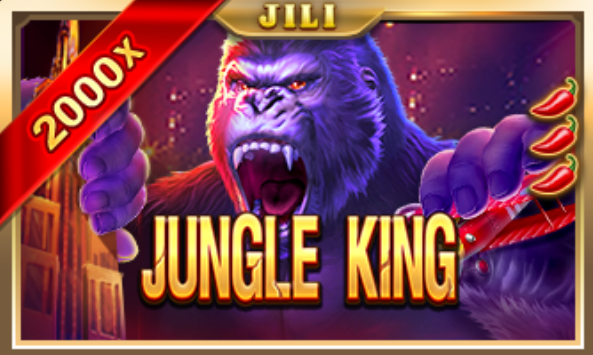 Among all the online slot machines in the Malaysia, the JILI Games is the most exquisite and beautiful in terms of visual processing. Like this theme adapted — Jungle King slot from the movie "King Kong", its game screen can be said to have reached its peak. You have never seen such a slot machine with shocking sound and light effects. game!
In addition to the amazing visual design, diverse winning combinations are also the main reason why players are addicted. You can collect silver star currency to randomly transfer various symbols, and you can also collect 3 Scatters to enter free spins. Jungle King will climb up to skyscrapers to shoot down planes, bonuses and free spins can be added to 3 planes.
---
---
| Theme | RTP% | Payline | Betting range |
| --- | --- | --- | --- |
| Movie "King Kong" | 97.85 | 50 | RM 1/1000 |
| Highest bonus | Volatility | board | Jackpot | Visual effect |
| --- | --- | --- | --- | --- |
| 2000x | 3 | 5×4 | x | ★★★★ |
---
How to Play Jungle King Slot?
The player must understand which symbols are the most valuable. In Jungle King slot, in addition to the mysterious symbol and Scatter, the wild symbol of Gorilla is the most eye-catching overall. In addition to the highest odds, it can replace any symbol in the game.
Our team found that Jungle King is a game that is definitely worth trying. It not only provides movie lovers with an excellent gaming experience, but also gains support and attention from players in terms of bonuses of the game.
---
Reels, paylines

The board of Jungle King is 5×4, with a total of 50 paylines, which is considered a standard design for slot machines. All winning points = odds X (player bet/50), and only pays the highest win for each line amount.

This symbol will appear in normal games, that is, free spins:
1. Obtain mysterious symbols, which can be randomly transferred to any symbol.
2. The mysterious symbol itself does not have any odds.
Scatter
At most one Scatter will appear in each round, so there will be up to 5. As long as there are 3 or more Scatters on the field, it will enter the free spins, but will not appear in the free spins.
Scatter X3
free spins X1, the number of aircraft reaches the standard, the multiplier of the next stage +1
Scatter X4
free spins X2, the number of aircraft reaches the standard, the multiplier for the next stage +2
Scatter X5
free spin X3, the number of aircraft reaches the standard, the next stage multiplier +3
Free Spin
Once you have collected 3 Scatters, you will enter the free spins. The player's goal is to make King Kong shoot down the plane.
1. Free spin for a fixed 8 rounds, when King Kong attacks aircraft, 1~3 aircraft will be randomly obtained after being destroyed
2. Collect 3 aircraft in total, increase the bonus multiplier, and get an extra round of free spins!
3. The winning club will be multiplied by the current accumulated multiplier.
4. The amount Scatter obtained in the general game will affect the initial multiplier value of free spins.
WILD
The WILD symbol in the game, in addition to Scatter and mysterious symbols, can replace any symbol.
How to Win Jungle King Slot by JILI?
It can be seen that JILI Games design on Jungle King slot is very careful. Regardless of Jackpot, 2000 times jackpot, reel, and volatility, the balance is very good, which means that players do not need to make extreme bets and invest time. You can get great fun and profit from it.
Taking into account the features that are easy for all players to play, the bonus system of JILI online slot has always been simple, and each game has its biggest feature. The biggest advantage of Jungle King is free spins. It has some impressive bonuses and gameplay.
---

Sponsored by Egroup88
Tagged: jili slot, jungle king, online slot game