VIP Monthly Chip Redemption

Particular VIP member may redeem Chip Redemption through "VIP Corner" according to the following criteria: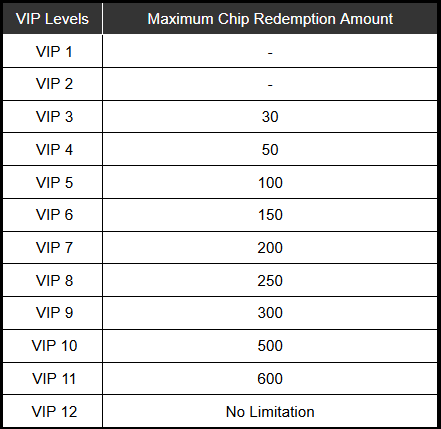 Terms Of Activity:
1. At least 5 deposit records needed on previous month, otherwise not eligible to redeem the chips.
2. VIP members may according to different level to redeem the certain maximum chip redemption amount on every month.
3. Total E-Point are not allowed less than your current membership qualification requirement, minimum E-Point must remaining account and it cannot use to redeem chip.
4. VIP Members are only allowed to users redeemable E-Point to redeem the chips according to the point redeem chart as above.
5. Once the chips are redeemed, E-Point will be deducted from account immediately.
6. VIP Members must use the chips to bet in any Casino or Sportsbook ( Except 918kiss, 918kaya, XE88 & Mega888 ) at least 1 times of cash flow in order to make withdrawal.
Tagged: chip, egroup88, free bonus, live, promotion, redemption, slot, vip, vip bonus