Win A Trip To FIFA World Cup Qatar 2022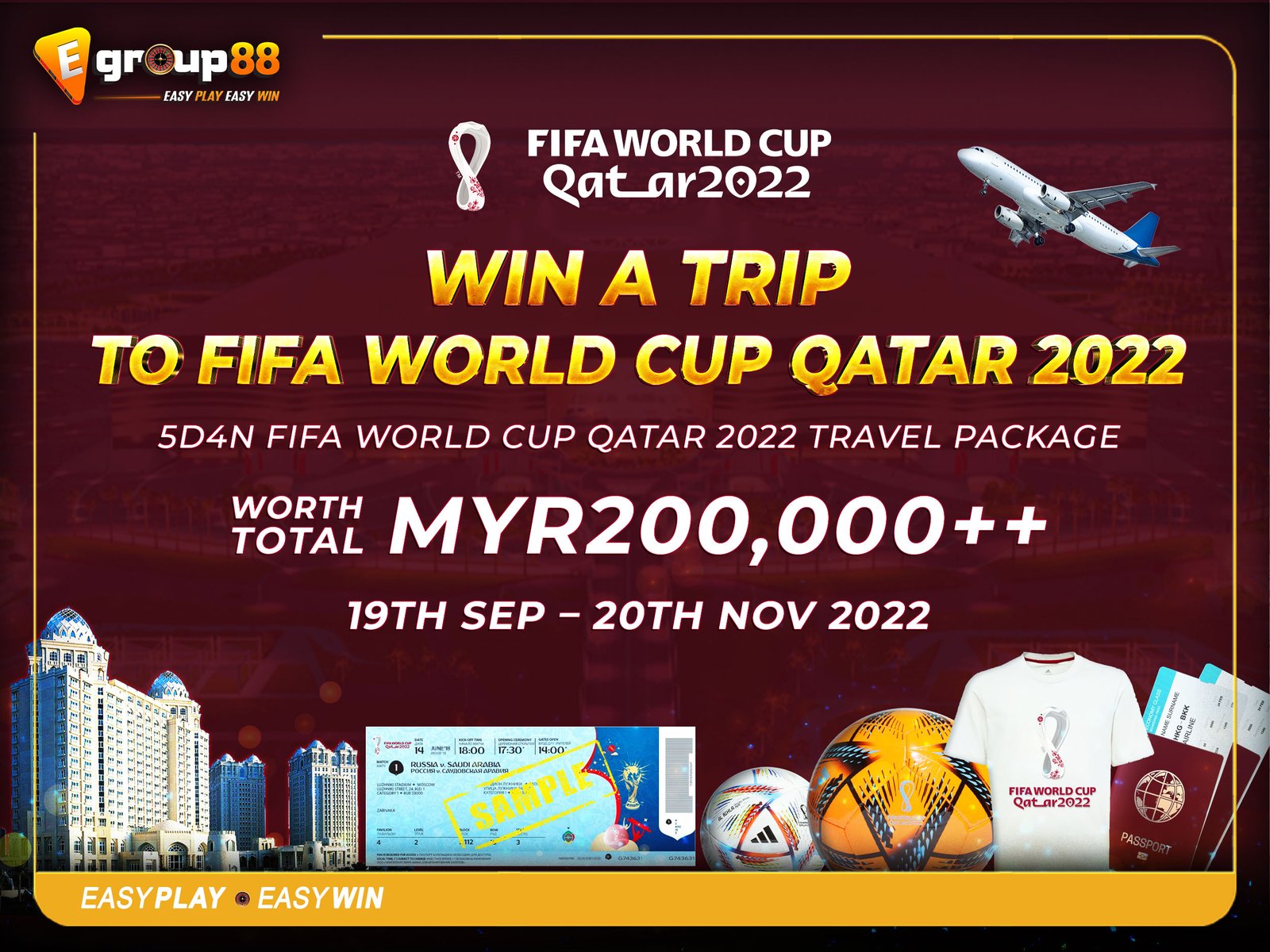 Ranking
Prizes
TOP 1
5D4N FIFA World Cup Qatar 2022 Travel Package for 2 pax
Round-Trip Flights(Qatar Airways)5-Star AccommodationsTickets to 3rd Place & Final Matches (Section:CAT 1)
 TOP 2
5D4N FIFA World Cup Qatar 2022 Travel Package for 2 pax
Round-Trip Flights(Qatar Airways)5-Star AccommodationsTickets to Semi-Final Matches (Section:CAT 1)
 TOP 3
5D4N FIFA World Cup Qatar 2022 Travel Package for 2 pax
Round-Trip Flights(Qatar Airways)5-Star AccommodationsTickets to 2 Matches of Quarter Final (Section:CAT1)
4 – 5
FIFA World Cup Qatar 2022 Premium Merchandise
 6 – 10
FIFA World Cup Qatar 2022 Merchandise
Event Terms :
1. To celebrate the world's biggest and most famous international football event – FIFA World Cup, Egroup88 organize a Tournament by giving tickets to FIFA World Cup Qatar 2022. This Tournament is open to all Egroup88 VIP members.
2. Tournament Period : 19th September 00:00 to 20th November 23:59
3. The Tournament Winners are based on Highest Total Deposit.
4. The TOP 10 with the "Highest Total Deposit" in this tournament challenge will win for the prizes as shown in the table above.
5. During tournament challenge period, the ranking of TOP 20 will be shown on the leaderboard in "Event" page every Monday.
6. The Final TOP 10 winner list will be announced on the homepage of the website on 21st November before 18:00.
7. Egroup88 will fully sponsor all expenses for the trip to Qatar which includes Round-Trip Flight Ticket, Accommodation, FIFA World Cup Qatar 2022 Match Tickets and other expenditures. (*other expenditures refer to meals, transport, etc)
8. Prizes will be forfeited if the winners fail to respond or be contacted by Egroup88 Representative for eligibility within 24 hours.
9. Egroup88 reserves the right to amend, suspend or cancel the promotion at any time and without prior notice.
Sponsored by Egroup88
Tagged: 2022 fifa world cup, egroup88, fifa, fifa world cup, fifa world cup qatar 2022, football, promotion, vip